Dreamscience Stage 2 Intercooler – Focus ST MK4
The Dreamscience Stage 2 Intercooler – Focus ST Mk4 has been especially difficult to develop due to the structure and layout of the front of the vehicle.
Our Stage 2 Intercooler may look a similar size physically, but the swept volume of the DS cooler is far greater than that of the OEM Unit. Be sure not to let size deceive you, the fin and core design is one of the most efficient available and offers incredible cooling properties. This choice of core is much more expensive than cores often used across the market, but the results they provide create a cooling machine rivalled by none (as shown in the testing data further below).
The compact design prevents any unwanted pressure drop and allows the turbo to spool extremely efficiently for instant performance.
During testing, we've seen massive reduction in Engine Charge Temps! especially after prolonged period of Wide Open Throttle. The Dreamscience Stage1/2 intercooler has been developed and  designed to work specifically for the 330bhp DS Ultima+ map (currently available on the iMap-E6). This modification when teamed up with the new Velossa Tech BIG Mouth Scoop provides your ST with most efficient cooling system currently on the market. 
This modification is required to run the new Stage 2 "Ultima-RS" tune.
Intercooler CORE dimensions/ spec:
Width 665mm
Height 114mm
Depth 110mm
Larger end tanks
Internal redesign
Fully louvered internal finning (cores)
All components sourced within the EU, Handmade in the U.K.
Testing/ Data:
The data shows results from tests carried out on a MK4 running the Dreamscience Ultima+ (330bhp) software. A direct comparison is made of the Ultima+ software with the stock intercooler Vs The Ultima+ software fitted with the Dreamscience intercooler. (no other changes)
As you can see, horse power and torque is increased substantially throughout the entire rev range, promoting a smoother and more linear power delivery. More importantly lowering charge temps and increasing performance for much longer!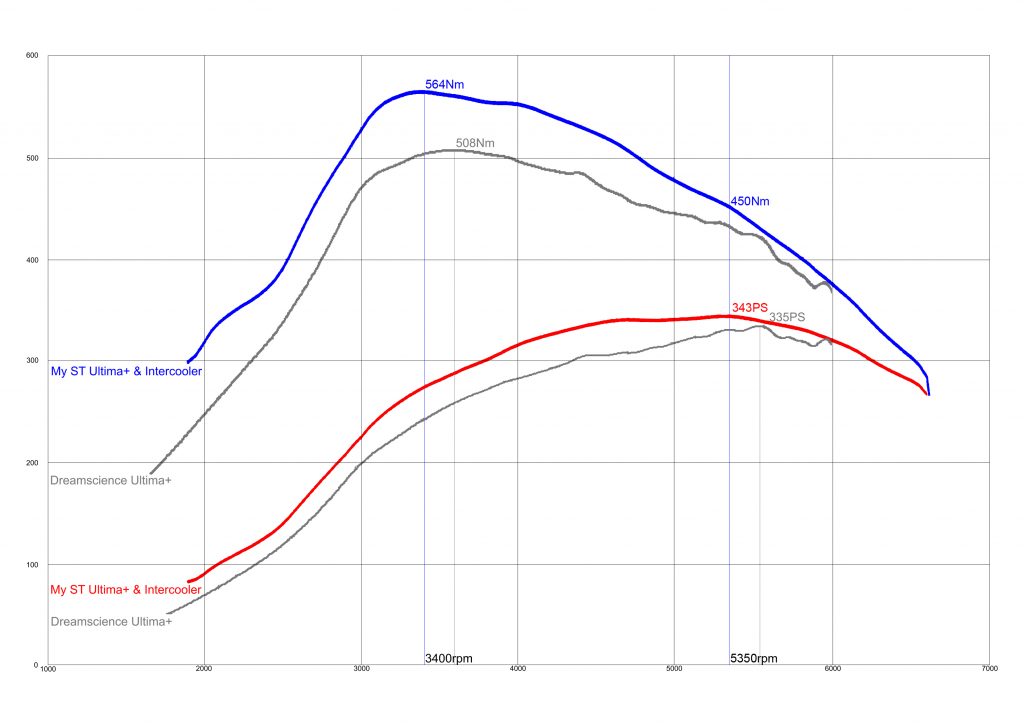 Fitting
We rate this item as 4 out of 5 for fitting difficulty, with 1 being the easiest and 5 most difficult. The Intercooler takes between 3-4 hours to fit and requires modifications to the standard smash panel.
We also offer a full fitting service at our Dreamscience HQ in Hull, UK. This must be selected with your order, and we will then contact you to arrange a suitable time. Please note if you require this service then you must choose collection as your delivery method when going through the checkout or you'll still be charged for delivery!
Fitting Guide here.
Read More