Dreamscience One Shot Maps and Custom Tuning
What is a One Shot Tune from Dreamscience? This is a software only option that requires your Ford to attend the DSHQ to be set up and tuned. This service includes connecting our tuning equipment to your car and uploading a remap straight to your ECU.
What are the benefits of a one shot tune at DSHQ?
Access to the latest and leading remaps on the market
Large range of Dreamscience maps to choose from
Up to 50bhp increase (depending on selected map)
Cost less than a new Tuning handset
You can upgrade to a rolling road session on our new 4WD dyno straight after your map
All Fords IDS equipment on sight if the ECU requires any software updates.
As we write and develop our own maps, we are able to market our remaps at a competitive price for our customers!
Custom Tuning is available (if required)
Most importantly – Coffee /Tea facilities are available whilst you watch your car get tuned
You won't believe the difference in your car as you drive away!
The One Shot Tune option is ideal for any customer who's car is out of warranty and doesn't need the ability to return the car to stock settings. However, If you do wish to have the ability to use the Dreamscience remaps but still have the option to return to stock please see the following link; Stratagem iMap If you have a new Euro-6 vehicle (Mustang GT Face-lift or Fiesta ST MK8) and wish to return to stock please see the following link; Stratagem iMap-E6
Dreamscience One Shot Map and custom tuning service is available for the following supported vehicles:
Ford Focus
Focus ST225
Focus ST250
Focus RS MK3
Focus RS MK1
Focus ST170
Focus ST MK4 (Coming Soon)
Ford Fiesta
Fiesta ST150
Fiesta ST180
Fiesta ST MK8
Ford Mustang
Mustang GT S550 V8
Mustang GT S550 V8 Face-Lift
Mustang 2.3L Eco-Boost
Custom Tuning
We can custom tune any of the above maps to suit your vehicle, we use our state of the art rolling road to ensure the tune file perfectly compliments your mods, fuel grade and driving style. This option is only recommended for customers with more extensive modifications such as bigger Injectors, Cams, Headers, Turbo etc that require "mapping in" to achieve optimum fueling, timing and overall performance. If your vehicle is fitted normal bolt on modifications such as exhausts, intercoolers, induction kits etc this service isn't required. The reason for this is because in the development stages before we release tune files, we carry out thorough testing with these modifications fitted both individually and fitted together until we are happy we have achieved the most performance before signing the map off as finished. Therefore a custom tune file would be unnecessary if you were looking to achieve more power as this work has already been carried out. The One Shot Tunes have been tried, tested and proven and are ready to be uploaded! (If you are running 440cc injectors on the focus st225, then Mod XRS is recommended over a custom tune)
Focus RS MK3 Stage 2/3 One Shot Tune vs Stock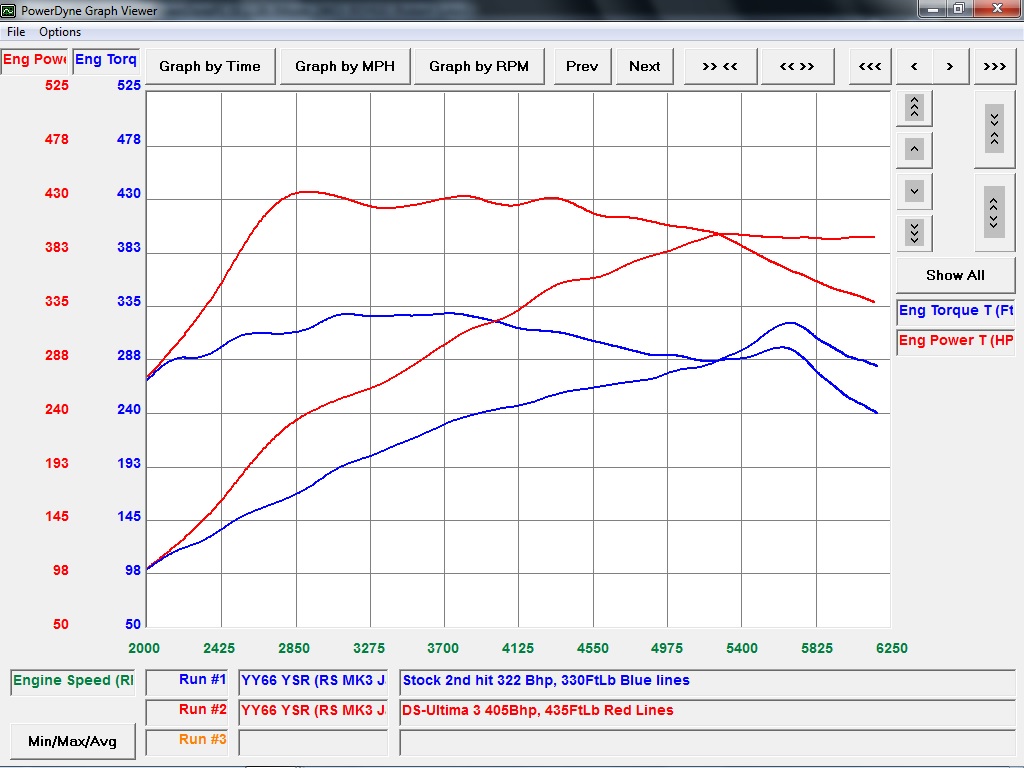 Buy Now!
Simply purchase this product and we will contact you within one UK working day to arrange your visit and discuss your tune selection. If you have a preferred date for your booking, please leave the date in the 'Notes' section during check out. A typical One Shot tune appointment takes less than 30 minutes. A One Shot tune with Rolling road session usually takes around 2 hours. A custom remap appointment will require the vehicle to be with us for 1 full working day.
Please Note: If your car is loaded with a One Shot Map from Dreamscience and your car gets a ECU/PCM update (during a service or dealership work etc) the map will be lost. This will then require you to purchase a new map. At DSHQ, we have the Ford IDS licence and can update your ECU to the latest calibration before we tune your car for an additional £35.00. (Ford dealership charge £80+VAT for this service)
Please note this item is only available to UK customers, please select "Collection" as your delivery method on checkout. Customers from outside the UK are welcome to contact their local Dreamscience dealer to find out more details. Or you can access our tune files through the Stratagem iMap handset which is available for delivery world wide. Stratagem iMap or Stratagem iMap-E6.