Software Only Remaps and Custom Tuning (one shot)
What is a Software Only Remap from Dreamscience? This is an 'in-house' tuning option that requires your Ford to attend the DSHQ. This service includes connecting our tuning equipment to your car and uploading a remap straight to your ECU. The vehicle will be test data-logged on the road both prior and post mapping to monitor fueling, performance and other important variables before signing off.
The software only remap is ideal for any customer who's car is out of warranty and doesn't need the ability to return the car to stock, as the iMap tuning device can. However, If you do wish to have the ability to switch between Dreamscience maps and the factory stock map, please see the following link; Stratagem iMap . Or if you have a new Euro-6 vehicle (Focus ST MK4, Puma ST, Mustang GT Face-lift or Fiesta ST MK8) and require the ability to return to stock, please see the following link; Stratagem iMap-E6
Dreamscience Software Only Remaps and Custom Tuning service is available for the following supported vehicles:
Ford Focus
Focus ST225 (inc Face-Lift)
Focus ST250 (inc Face-Lift)
Focus ST MK4 (inc Face-Lift)
Focus RS MK3
Focus RS MK1
Focus ST170
Ford Fiesta
Fiesta ST150
Fiesta ST180
Fiesta ST MK8 (inc Face-Lift)
Puma ST
Ford Mustang
Mustang GT S550 V8
Mustang GT S550 V8 Face-Lift
Mustang 2.3L Eco-Boost


---
Custom Tuning
Software Only Remaps and Custom Tuning (one shot)

As a brief introduction, tuning, otherwise known as re-mapping is the editing of the factory binary tables of specific parameters – to maximise efficiency and performance for any set number of conditions, fuel grades and vehicle modifications.
By adjusting the relevant parameters to synergize the vehicles software to the hardware, we can not only improve performance, but maximise output.
These vehicles (even in the standard calibration) work to various table limits. Our 'Remap' (through numerous changes) ultimately allows these table thresholds to be maximised and even increased where necessary, resulting in more tailored performance, thus increasing the overall power output and efficiency of the vehicle.
In order to maintain a true 'Specialist' status, we cherry pick working with only a handful of ST & RS models. Each vehicle we specialise in is purchased new and is put through our 6 to 12month development program. The development program includes tens of thousands of road miles, dyno testing and where relevant, track testing.
With access to the latest data logging technology, our in-house – 4-wheel drive dyno, plus our partnership with @sctperformance , this has ensured we have an unrivalled resource of combined tuning knowledge and experience. (SCT – one of the leading Ford tuners in the United States).
All finished maps begin their life as a Full Custom Tunes and by the time the development program has finished, several tune files are generated for each vehicle.
Each map will cover the eventuality of customers using differing hardware options and variations in fuel (i.e., 95,97,99ron fuel).
These custom maps are analysed and filtered through a full team of tuners before they are configured into our 'iMap' tuning devices, making the tunes accessible to customers worldwide!
We can custom tune any of the above maps to suit your vehicle, we use our state of the art rolling road to ensure the tune file perfectly compliments your mods, fuel grade and driving style. This option is only recommended for customers with more extensive modifications such as bigger Injectors, Cams, Headers, Turbo etc that require "mapping in" to achieve optimum fuelling, timing and overall performance. If your vehicle is fitted normal bolt on modifications such as exhausts, intercoolers, induction kits etc this service isn't required with our tunes, for reasons explained above.
---
Focus ST MK4 Stage 2 One Shot Tune vs Stock (Hardware Required)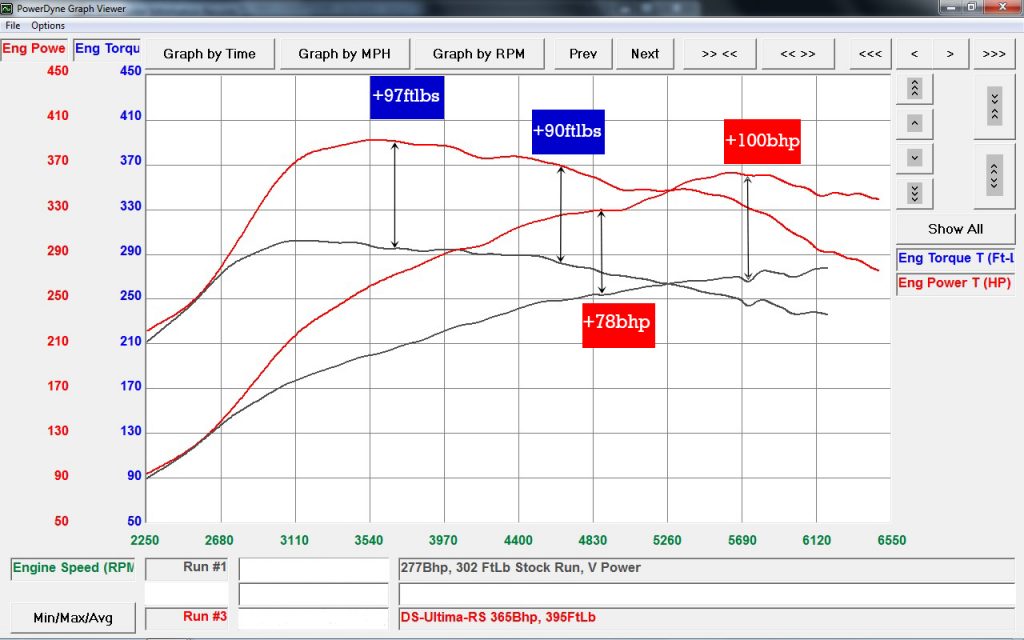 Buy Now!

Simply purchase this product and we will contact you within one UK working day to arrange your visit and discuss your tune selection. If you have a preferred date for your booking, please leave the date in the 'Notes' section during check out. A typical Remap appointment takes less than 45 minutes. A Software Only Remap teamed up with a Rolling road session usually takes around 2 hours. A custom remap appointment will require the vehicle to be with us for 1 full working day.
Please note this item is only available to UK customers, please select "Collection" as your delivery method on checkout. Customers from outside the UK are welcome to contact their local Dreamscience dealer to find out more details. Or you can access our tune files through the Stratagem iMap handset which is available for delivery world wide. Stratagem iMap or Stratagem iMap-E6.
Read More