Dreamscience Stratagem iMAP-E6 Custom Tuning Device.
For more information on the Overrun software add on's, please Click here and select the appropriate map to your vehicle.
This handset is compatible for the following vehicles;
Ford Mustang GT Face-Lift 
Ford Fiesta ST MK8 – 200
Ford Fiesta ST MK8.5 Face-Lift 
Ford Focus ST MK4 (Manual only)
Ford Focus ST MK4.5 Face-lift (Manual only)
Puma ST (1.5T)
The Dreamscience Stratagem iMap-E6™ is the latest and most innovative flash tuning handset brought to you by the tuning wizards at Dreamscience Motorsport. We have made this all possible by collaborating with one of the world's largest and most successful Ford Tuning companies SCT who are based in the USA.
This exciting partnership has ensured that we have the very latest device hardware technology, plus an un rivalled resource of combined tuning knowledge and experience, it is no coincidence our tunes files are popular market leaders, and are considered to be the best available, as reported by numerous independent specialist magazine tests.  Now that most modern performance Fords are released on a global scale we are able to bring new hardware and tuning files for all the new performance Fords even faster than before.
The concept of the Stratagem iMap™ is to offer a simple plug and play, easy to use, attractive, yet multi-functional device that has the ability to offer customers a  wide range of Dreamscience's own proven tune files, as well as having the ability to receive custom tune files from Dreamscience dealers worldwide.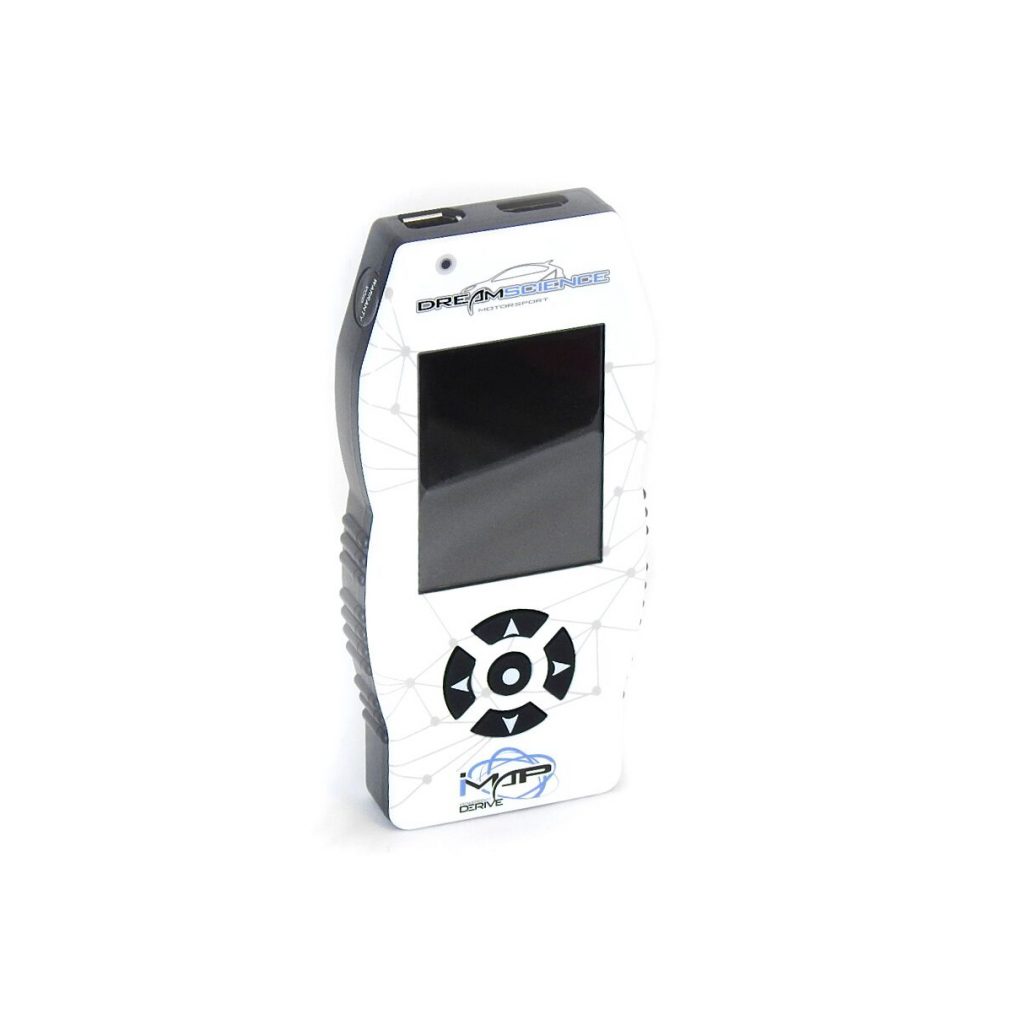 All of the Dreamscience tune files on the Stratagem iMap™ have been carefully created at our research centre using our state of the art rolling road, as well as numerous actual road tests on several of each supported vehicle types to ensure we deliver the maximum performance from your vehicle, while maintaining the highest standard of safety and reliability. With the iMap you have the ability to flash between the tune files on the device for your chosen car an unlimited number of times, plus you can flash between stock and a tune file an unlimited number of times. When you 'Return to stock' with the iMap on the MK8 ST, at the time of writing, it does not reset the ignition counter which is ideal if you don't want your dealer to know you have mapped your car.
The iMap has the ability to receive custom tune files (if purchased) that can be e-mailed to you, then added to your device via pc and the cable provided. This handset also provides you with the ability to data log and analyse your ST's performance on the move.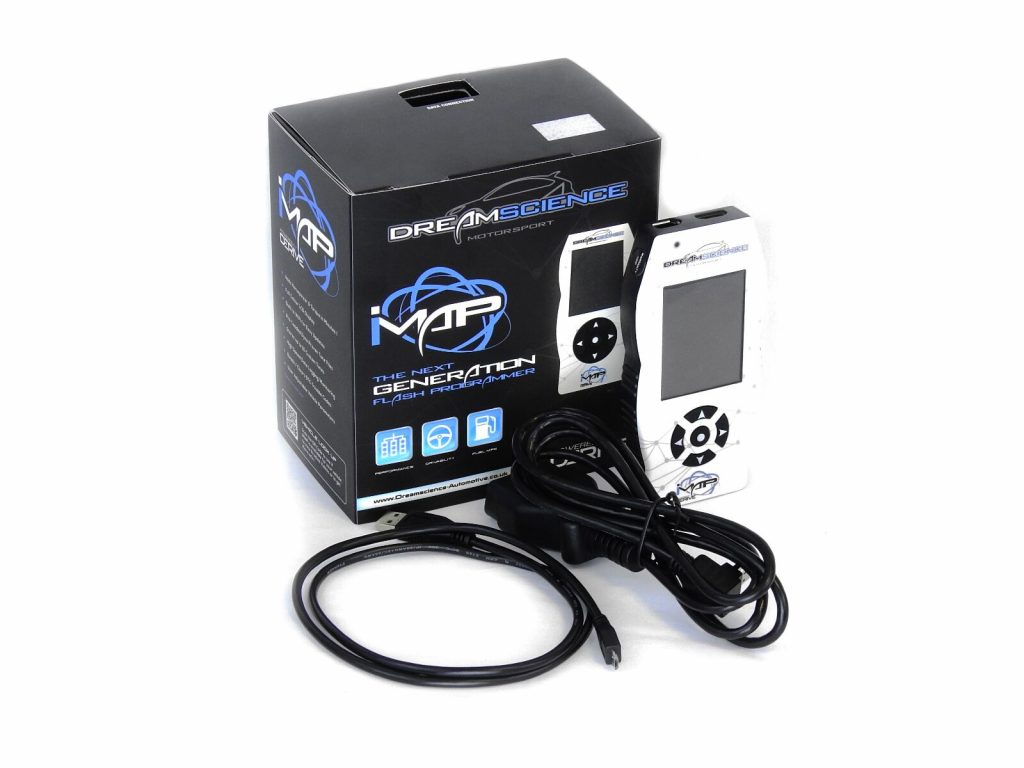 The handset can only work on one vehicle at a time. One handset can work on 5 different E6 Spec vehicles only. (Fiesta ST MK8, Mustang Face- lift, Focus ST MK4) As long as you "return to stock" before choosing to use the handset on another vehicle. You cannot keep  a tune file on your car and sell the device on as it will not work. Each time the handset is used to program a vehicle with a different VIN number to the last, a life will be lost. Once the handset is married to a VIN you can flash between tune files and return to stock an unlimited number of times. Once the handset detects a new VIN, It will then use one life. There are 5 lives in total.  Therefore, you can sell the device on and the new keeper can have access to the iMaps ability to read and clear codes, plus all data logging functions. Tune files will only work on the new owners car if the vehicle is the same model and shares the same ECU strategy number. If the new keepers ECU strategy number doesn't match the tune file will not work. The new keeper will have proceed through this LINK so we can rebuild the custom tune files to suit the new ECU Calibration. The total cost of this service is £50.00.
We do advise before sending your vehicle into a garage for service or warranty work you return to stock as there may be updates applied to your car which may delay loading a tune file once returned. Invariably the Ford manufacturers do release calibration updates, when this happens we rapidly test these, then we add an update to our website to ensure your vehicle has continued support as soon as possible. The iMap only requires to be connected to the cars OBDII when uploading a map, Data logging or when Reading/Clearing codes. Other than this, the iMap should remain unplugged from the car.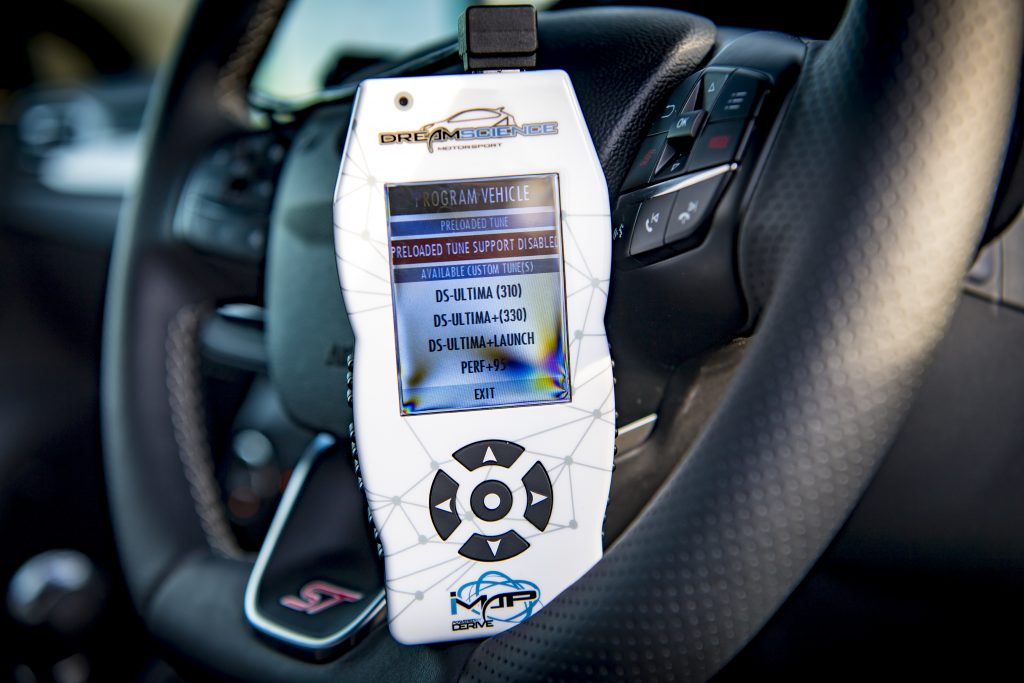 **WARNING, THIS E6 HANDSET DOES NOT SUPPORT ANY OTHER MODELS AND CAN ONLY BE USED TO PROGRAM THE FIESTA ST MK8, FOCUS ST MK4 , PUMA ST (1.5T) AND THE MUSTANG V8 FACE-LIFT**
ACCESS TO A WINDOWS PC REQUIRED – IF USING AN APPLE MAC, IF YOU USE MACOS, YOU CAN USE FREE 'VIRTUALBOX' TO RUN THE SOFTWARE.
MAPPING PROCESS – Plug iMap into the car, Go t0 'Vehicle info'. Look at the ECU Strategy number and take a note of it. Send the ECU Strategy number and your handset serial number via email to info@dreamscience.co.uk. We will build your tunes around your ECU strategy and serial number and email back to you. You can then load then onto your handset via our updater on the Dreamscience website. The process is very straight forward.  All instructions are included with the iMap handset. .
Read More