Dreamscience Stage 1 [Focus ST MK4] 340bhp+

Dreamscience have become world famous and synonymous with Focus ST tuning from the days of the Focus ST225, where we attracted the majority market share with our legendary tune files and bolt on modifications. The team at Dreamscience have certainly applied this same pedigree to the new MK4 Focus ST. After endless testing and development, we present to you the Ultimate Stage 1 Tuning Package. Huge focus (as always) has been invested in the level of reliability, performance and most importantly, the fun factor! Plus, a package includes a saving of over £149 when fitted.
The Dreamscience Stage 1 Package includes the following components;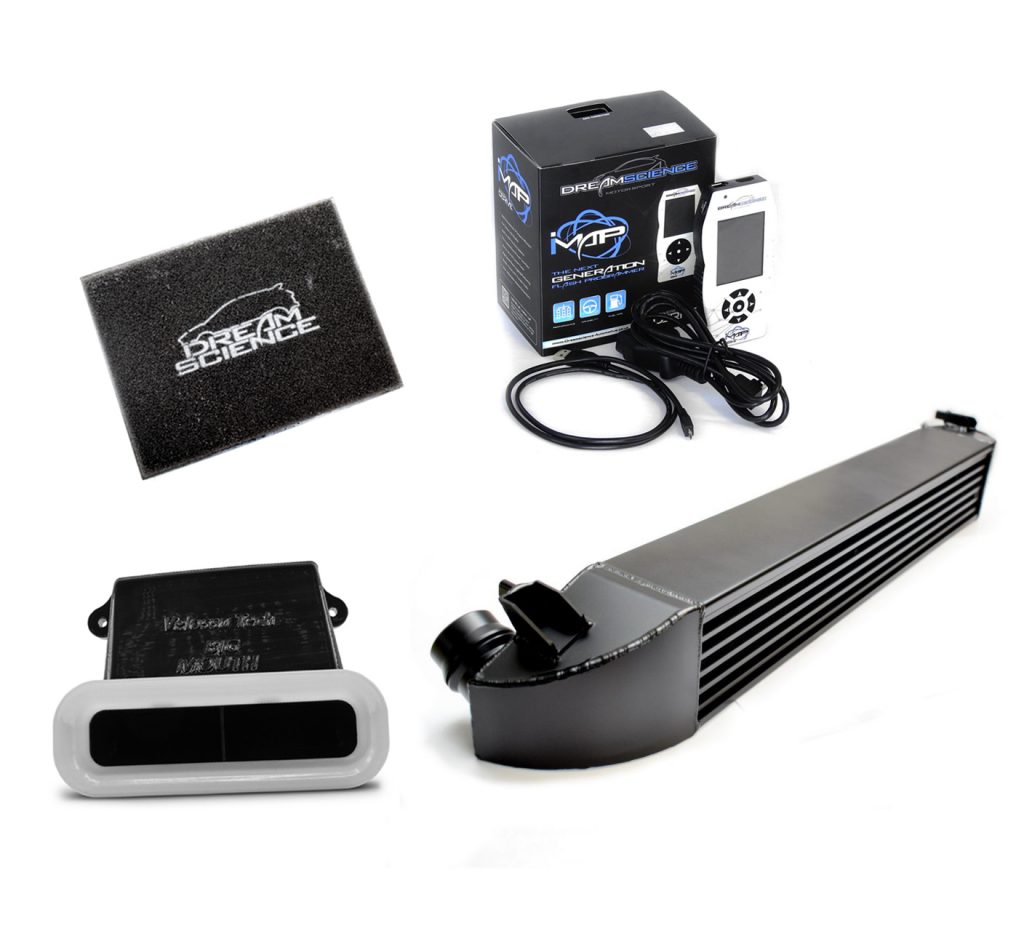 ---
STAGE 1 ULTIMA + SOFTWARE ONLY – NO HARDWARE.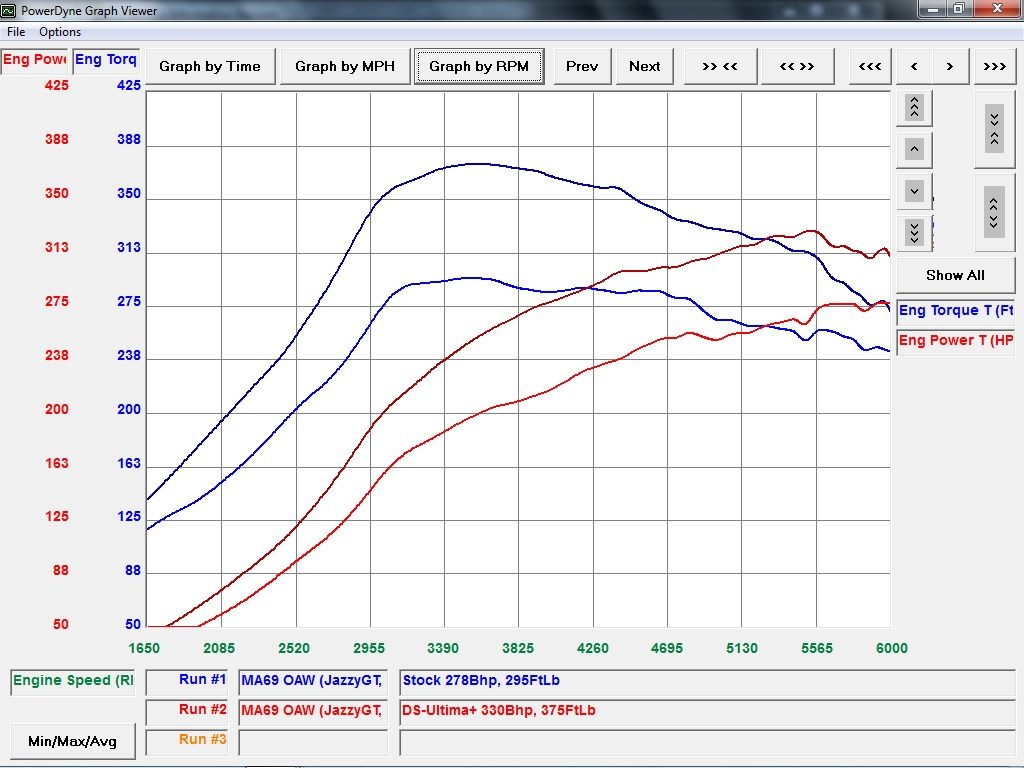 As you can see the from the dyno graph, our Ultima+ software with no hardware changes makes an impressive 330+Bhp and 375+FtLb of torque. Although a very strong map, we have still managed to control the torque curve for better acceleration with no crazy spike. This characteristic prevents pre ignition and excess strain to the engine. We have made this map ever progressive as can be seen from the graph with an extra lump of power / boost coming in above 5000 rpm making this map feel absolutely insane to drive through the entire rev range. Peak power is achieved just above 5550 rpm and holds well making this map very punchy without having to over rev to extract the maximum power.
After a few full throttle pulls on the inefficient stock intercooler, charge temperatures at higher rpm and can get pretty high . Therefore, reducing reliable power reproduction, with a reduction in overall efficiency. However, this issue can be reduced significantly when teamed up with the correct choice of supporting hardware. This is where the Dreamscience high flow panel filter, intake scoop and intercooler come in to action. All three hardware upgrades combined not only improve performance and reduce temps, but they ensure the fun is enjoyed for longer. Allowing you to experiencing the full ferocious force of the Ultima+ over and over, rather than just once or twice!
Don't just take it from us either! below, we have results of the same Ultima+ tune independently tested both with, and without the Dreamscience Intercooler fitted.  As you can see by the graph, not only with the Dreamscience intercooler there is an instant jump in peak PS, but an incredible 35PS increase at 4600rpm, with a 60NM increase at 3370rpm. Confirming that the intercooler isn't just providing great reduction in temps, but providing crucial performance improvements!
Dreamscience Intercooler Teamed Up With Stage 1 Software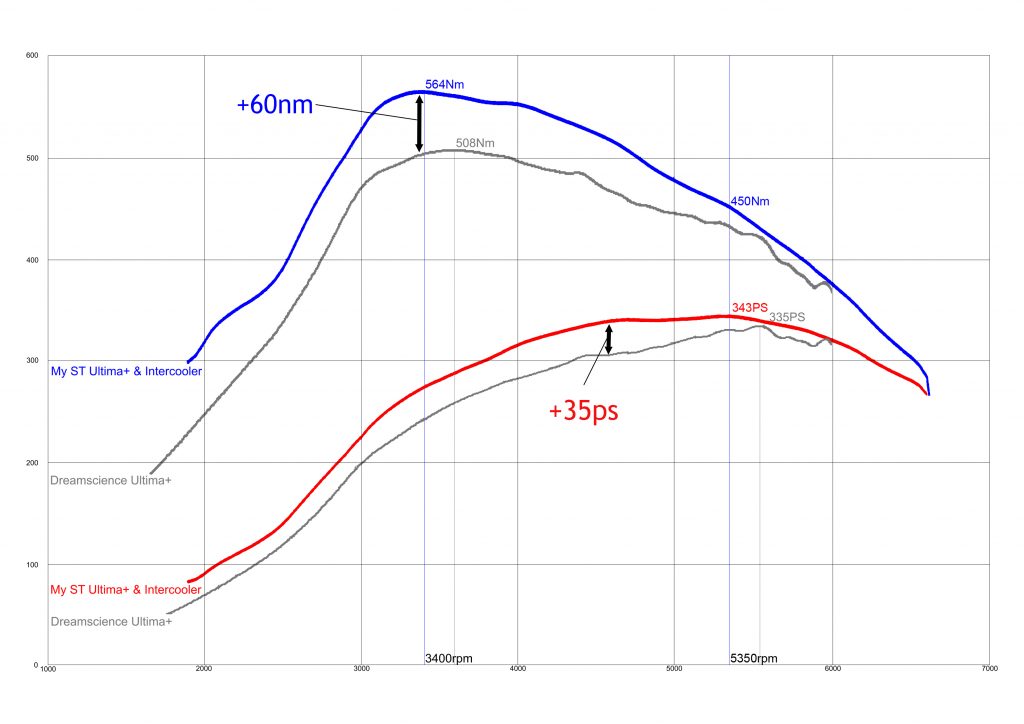 EXPECTED PERFORMANCE OUTPUT: Customers running the full Dreamscience Stage 1 package can expect to see between 340bhp to 345bhp with around 390Ftlbs Torque.
---
Stratagem iMap-E6.

The Stratagem iMap™, Popular for its ability to live data log, remotely receive further tunes, code reading and code clearing technologies. In addition to this, the iMap-E6 is mostly popular for its unrivalled and unique ability to not only return your vehicle to factory settings in minutes, but doing so without resetting crucial information such as the 'ignition counter'. Consequently, with no aftermarket software being 'warranty approved' by Ford recently, this feature alone has indirectly propelled the iMap-E6 as the closest to a 'warranty friendly' tuning option for the new ST models across the entire market. The stock file is built into the iMap-E6 so even if you are currently running another map, the iMap will over write and still give you the option to return to stock settings. You can use the iMap-E6 to map your car and return to stock settings an unlimited amount of times. You must remember to Return-To-Stock before taking your car in to the Main dealer. The iMap only requires to be connected to the cars OBDII when uploading a map, Data logging or when Reading/Clearing codes. Other than this, the iMap should remain unplugged from the car.
Key Features.
PERFORMANCE+ (95RON FUEL)
ULTIMA MAP (97RON FUEL)
ULTIMA+ MAP (99RON FUEL)
DATA LOGGING FUNCTIONS
CODE READING/ CLEARING TECHNOLOGY
RETURN TO FACTORY SETTINGS IN MINUTES (WITHOUT RESETTING THE IGNITION COUNTERS)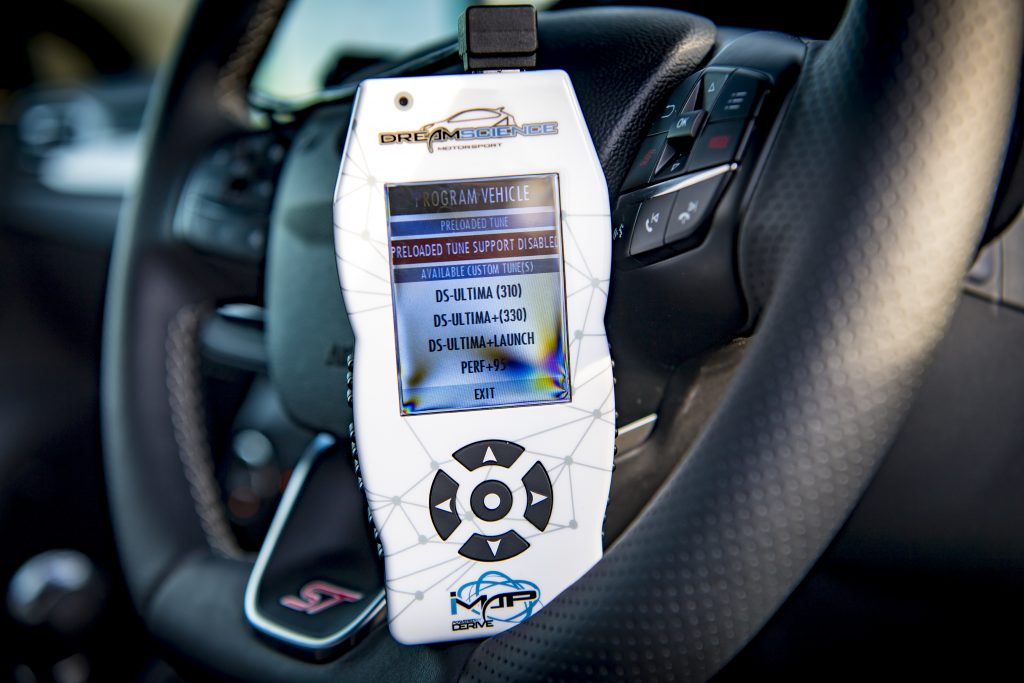 Fore info on the Stratagem iMap-E6, Click Here
---
Dreamscience High Flow Panel Filter.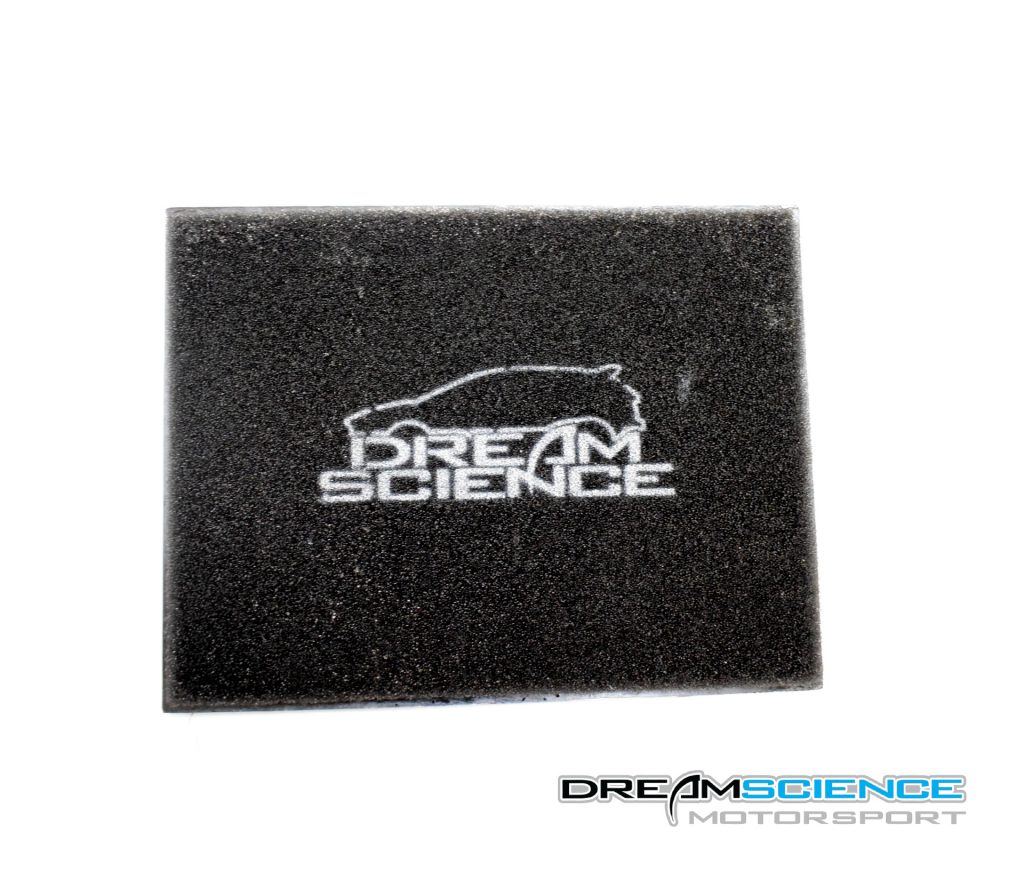 For more info on the Dreamscience High Flow Panel Filter, Click Here
---
Dreamscience Stage 1/2 Intercooler.
Though the system may look a similar size physically to OEM, the swept volume of the DS cooler is far greater than that of the OEM Unit. Be sure not to let size deceive you, the fin and core design is one of the most efficient available and offers incredible cooling properties. This choice of core is much more expensive than cores often used across the market, but the results they provide create a cooling machine rivalled by none. The compact design prevents any unwanted pressure drop and allows the turbo to spool extremely efficiently for instant performance. During testing, we've seen massive reduction in Engine Charge Temps! especially after prolonged period of Wide Open Throttle.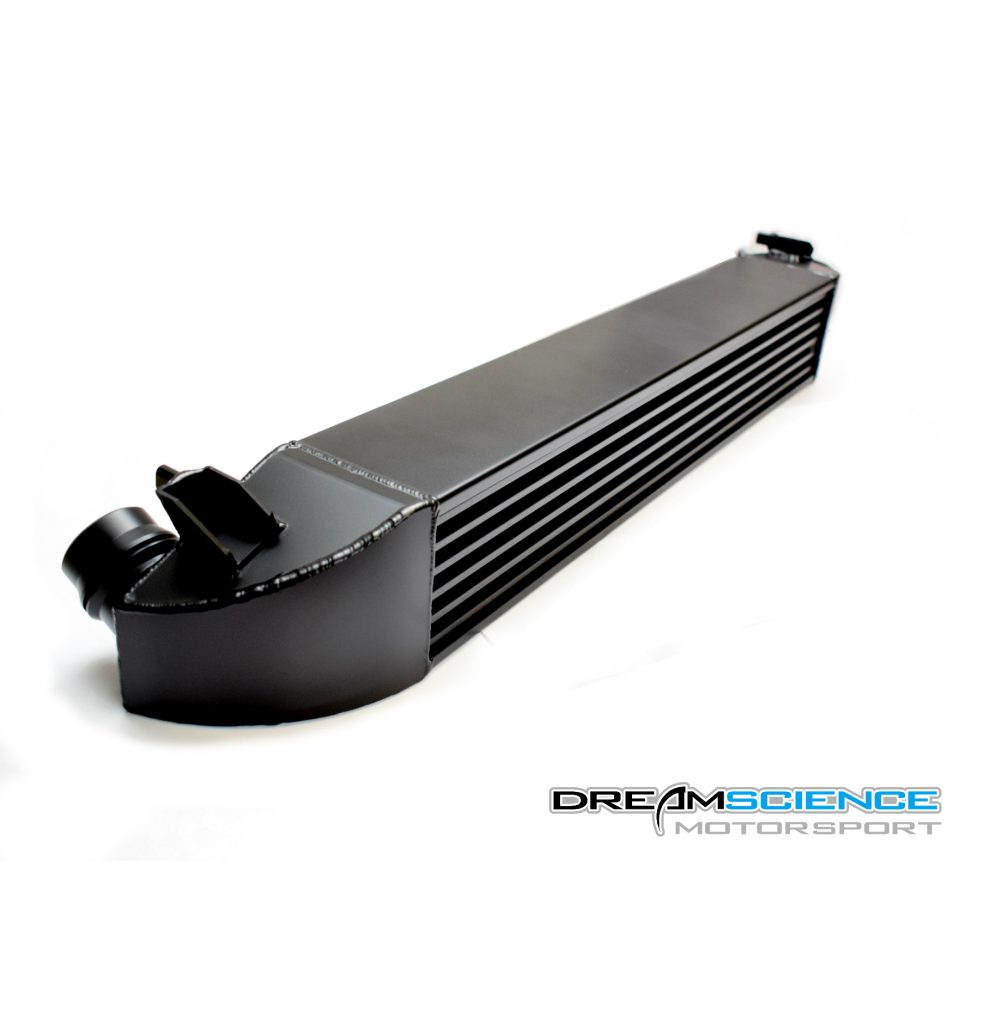 For more info on the Dreamscience Stage 1/2 Intercooler, Click Here
---
Velossa Tech BIG Mouth Scoop [NOT INCLUDED IN PRICE – OPTIONAL EXTRA +£149.95]
Use the forward motion of your car, turn that motion into pressure. Increasing the inlet pressure to your turbocharger has profound effects on performance. Increases in air mass flow, reduction in waste gate duty cycle and reduced inlet and charge temps are some of the benefits of running a properly designed inlet. This set up is designed to receive a direct feed of cold air from outside the car than consume hot air under the bonnet that is heated by the engine.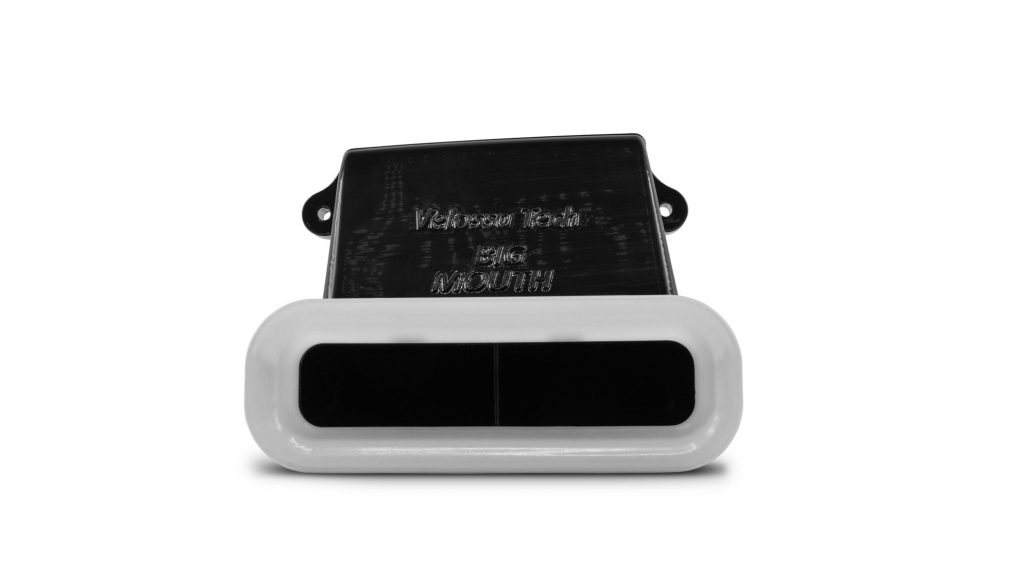 Fore more info on the Velossa Tech BIG Mouth Scoop, Click Here 
---
Fitting Service.
Fitting is available at our HQ. If fitting is required, please select this option in the product drop down before you check out and a member of staff will contact you to arrange a suitable booking date.
Read More