BMW G8X M3/M4 Akrapovic Slip-on-line System
Product Details.
The BMW G8X M3/M4 Akrapovic Slip-On-Line System is a high-grade lightweight titanium system, featuring hand-crafted carbon-fiber tailpipes, and weighing 35% less than the stock system. It includes a pair of collectors that our in-house foundry has cast. The Slip-On Line (Titanium) comes with a specially developed Akrapovič control kit to provide a complete sound experience. The sound character delivers a rich tone during normal cruising and transforms into a deep sporty sound when you drive the M3/M4 more dynamically. It offers perfect sound at all RPMs, combining comfort and sportiness in a single exhaust system. We've designed it with a groundbreaking octagonal shape in lightweight titanium, complemented by a carbon-fiber outer sleeve for the tailpipes. For those with more traditional preferences, there's also the classic cylindrical design.
Performance.
The system provides power increases of 8.0 kW (10.9 hp) at 6,000 rpm and a torque gain of 13.9 Nm at 5,000 rpm, as tested on the Akrapovič dyno against a BMW M4 Competition with a standard stock exhaust. This configuration doesn't require remapping, and it fits all vehicles (OPF and non-OPF). However, please note that the ECE certificate is only valid for cars equipped with an OPF filter. Optional link pipes and downpipes are available for customers seeking to modify the exhaust for closed-circuit usage. You can also opt for the Akrapovič Sound Kit. If you choose to install the optional link pipes, downpipes, and Akrapovič Sound Kit, please be aware that the ECE type approval for the Slip-On Line (Titanium) will no longer be valid. Additionally, we offer an optional hand-crafted carbon-fiber rear diffuser to enhance the visual impact of the Akrapovič tailpipes.
Compatibility.
Did you know? This exhaust system is compatible with xDrive and M4 (G83) Convertible models as well! Furthermore, the Slip-On Line (Titanium) exhaust system is ECE type approved for cars equipped with an Otto/gasoline particulate filter.
Tail Pipes.
You have the option to choose between Round Carbon Tail Pipes, demonstrated on the left side of the image, or Octagonal Tail Pipes, demonstrated on the right side of the image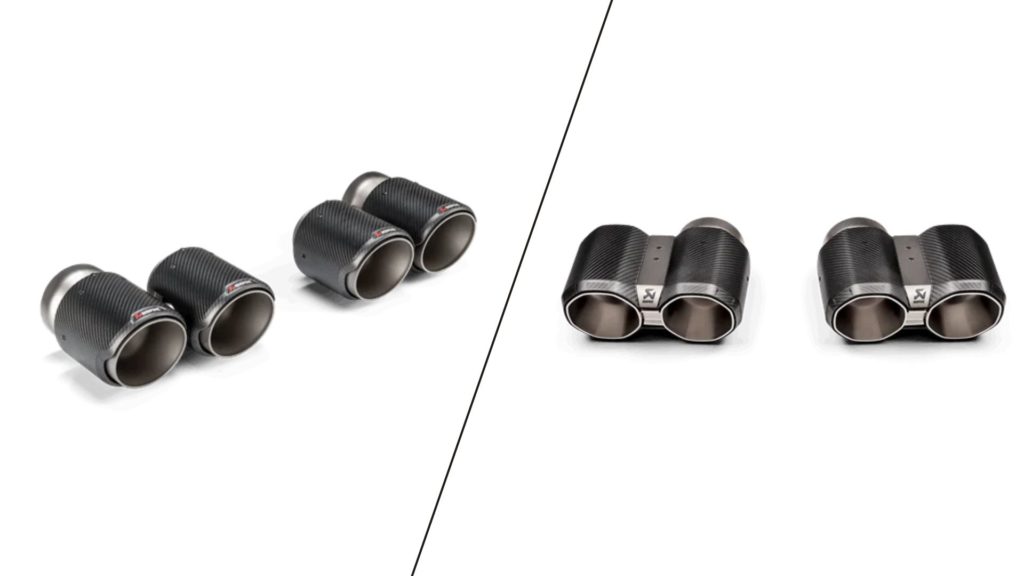 Check out our road test for this system on our project car:
Read More