KW BMW G80 G82 Height Adjustable Coilover Spring Kit (M3, M3 Competition, M4 & M4 Competition)
This KW Height Adjustable Coilover Spring Kit allows an individual adjustable lowering solution. – Individual height adjustability of the serial suspension kit – Serial suspension system – also with electronic damper control – stays active – Improved optic and vehicle dynamics – Optimal performance – Better steering behaviour.
KW Height Adjustable Coilover Spring Kit
No more committing to a rigid 20 / 30 mm drop in stance.
The KW Coilover spring kit is used for lowering the vehicle in combination with the serial dampers, even when electronic damper control is installed. This lowering solution from KW optimises the dynamic performance and the steering behaviour without the electronic damper control deactivated. For this solution vehicle specific adjustable spring seats with adjusted KW lowering springs and the matching elastomer as well as the dust cover system will be used.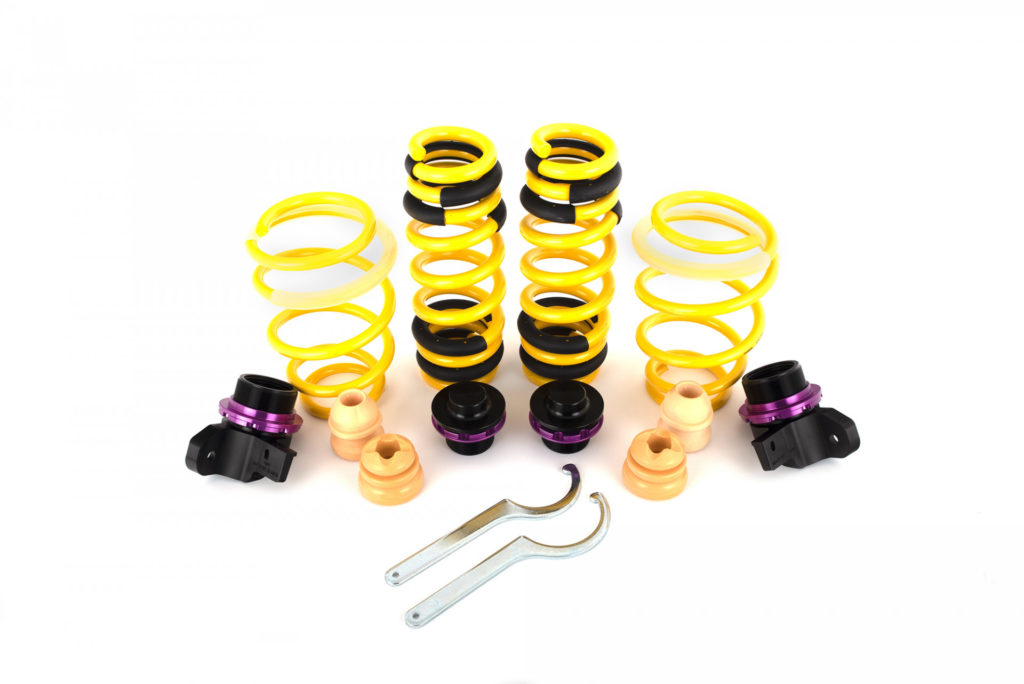 PART NUMBER: 253200EB
MANUFACTURED BY: KW
WARRANTY: 2 year warranty.
INSTALLATIONS INSTRUCTIONS 
For vehicles equipped with electronic dampers from the factory, KW's sleeve kit for the G80/G82 M3/M4 RWD and X-Drive are, in some ways, better than a full coilover kit because you do not have to sacrifice any functionality in order to lower your car. That combined with KW's legendary quality and race heritage gives you the peace of mind you need when modifying your treasured car. Eliminate that ugly fender gap and get that sexy sporty look for your G8X M3/M4.
FEATURES 
Suitable for BOTH rear-wheel drive & xDrive vehicles
Individual height adjustability of the original suspension
Does not interfere with factory electronic damper control
Composite Spring Seat and Trapezoidal Shock Threads provide industry-leading durability, load capacity, and ease of adjustment.
Front Lowering Range: 10-25mm | 0.4-1.0 in
Rear Lowering Range: 5-25mm | 0.2-1.0 in
Go faster through the curves with improved handling that inspires confidence!
Excellent ride quality that will keep you and your passengers comfortable and happy.
Get the look you really want with full height adjustability.
Read More