EBC 4 pot BBK Balanced Brake Kit – Ford Fiesta MK7 ST180 2011-2017
When it comes to high performance braking, bigger is not better… Balanced is better, and that is exactly why this brand new 4 pot front big brake kit for Ford Fiesta ST180 is what you need to stop your car with ease.
In addition to the familiar brake kit hardware, every EBC Balanced Brake Kit™ is supplied complete with rear pads and rear stainless steel braided brake lines. Unlike conventional 'big brake kits' which only supply parts for a single axle, EBC Balanced Brake Kits™ give you all the hardware you need to upgrade both axles, resulting in a truly balanced performance upgrade. The EBC philosophy is simple, 'More Hardware, More Performance'. Each kit is custom engineered and tested for the individual vehicle, ensuring full ABS function is retained along with an optimal front/rear brake balance enabling shortest stopping distances both on street and on track.
Discs: 2-piece
• Multiple disc sizes available – 300x28mm & 330x28mm
• Fully-floating patented EBC Square Drive™ bobbin system
• 48 curved vanes for effective heat dissipation
• High strength aerospace grade aluminium hub, anodised black for increased heat radiation
Caliper: 4 Piston Calipers
• FEA optimised lightweight aluminium caliper, reinforced with high-tensile steel bolts for maximum stiffness
• Choice between full dust boot type seals for road use, or inner piston dust seals for track use
Pads:
• Supplied with EBC Brakes Yellowstuff™ pads front & rear, EBC's flagship ultra-street and track material
Brake lines:
• Front & Rear stainless steel braided brake lines included
Brake fluid:
• Supplied with EBC BF307+ racing spec DOT 4 brake fluid
BUILT TO LAST
Every aluminium caliper body is hard anodised for longevity and then coated in a high temperature Teflon™ polyester top coat.
Unlike most calipers on the market which are powder coated, the high-tech coating system used on EBC brake calipers is derived from the cookware market and is extremely durable and easy to wipe clean.
It will not crack under exposure to extreme heat and the colour is resistant to fade due to high temperature or UV radiation, ensuring EBC calipers perform and look great for years.
What's in the kit?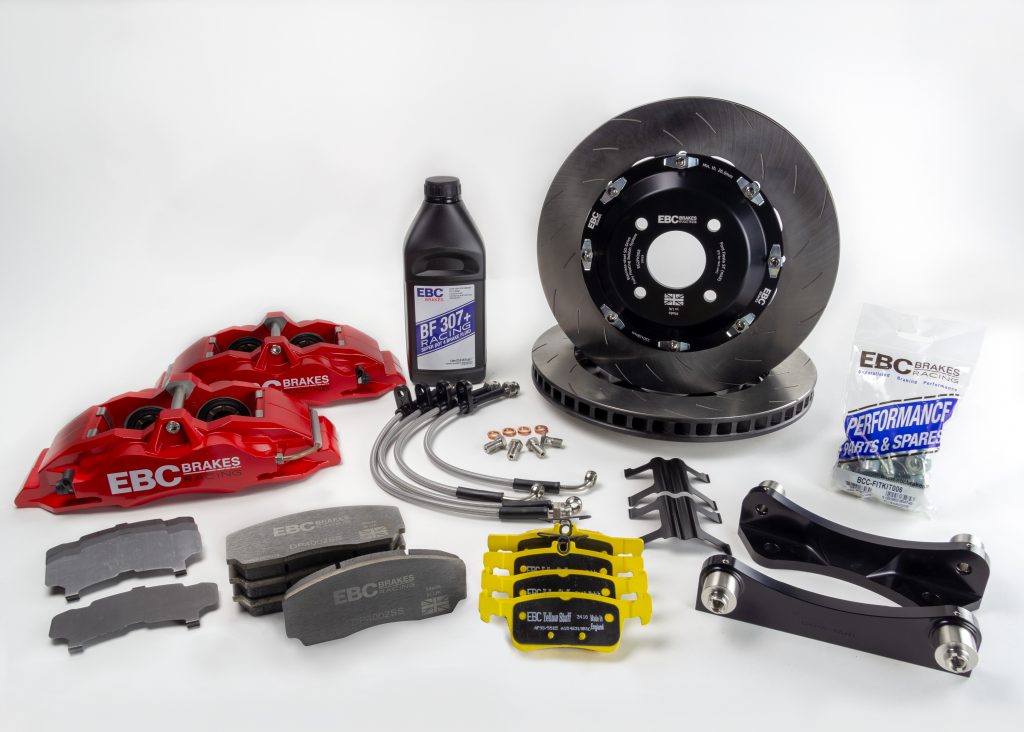 300MM – OE front brakes = 25.1kg, EBC BBK = 21.0kg. To clear 17″ Ford 5-spoke OE wheel 25mm spacers are required which will cause wheels to rub on cars that have been lowered. EBC recommends the fitment of aftermarket wheels.
330MM – OE front brakes = 25.1kg, EBC BBK = 22.2kg. To clear 17″ Ford 5-spoke OE wheel 20mm spacers are required which may cause wheels to rub on cars that have been lowered. EBC recommends the fitment of aftermarket wheels.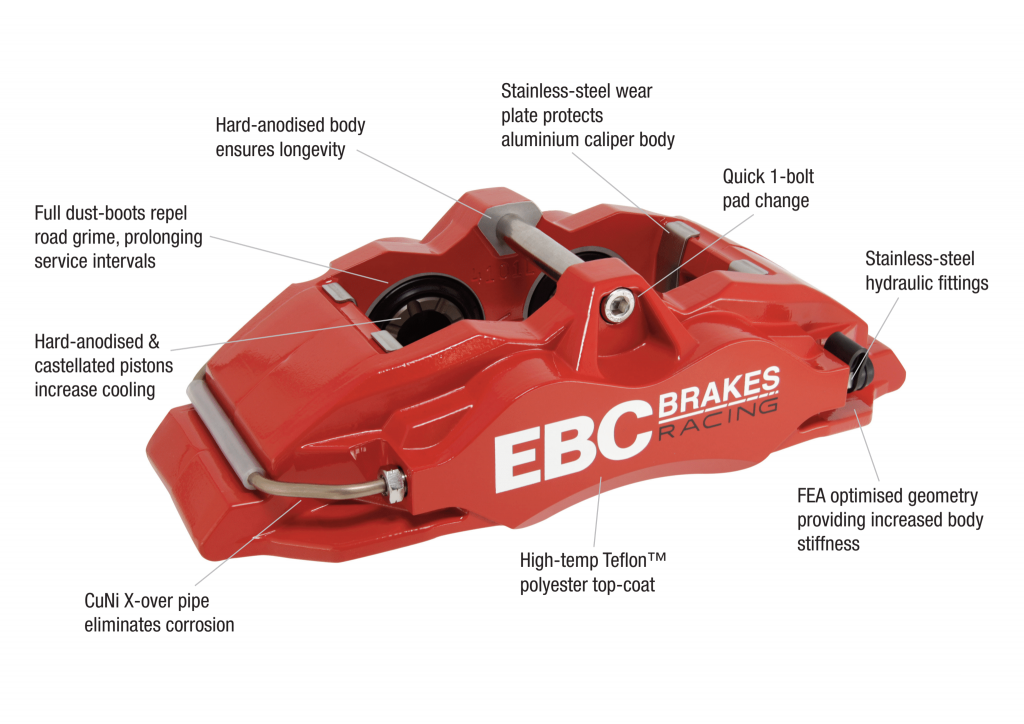 Shipping info:
This product is available for shipping inside the UK, Europe and the rest of the world. Shipping times may vary. Extra charges may be incurred if your locations is considered Remote. If this is the case a member of our team will be in touch shortly after you have completed your order.
Fitting info:
Our Experienced Techs will take good care of your ST whilst it is with us. We Follow a strict procedure for each job to ensure a high level of quality is delivered.
This Procedure is below:
– Protect Vehicle Steering wheel with Cover.
– Protect Seats with Cover.
– Pre-work test Drive to fault find before we carry out work.
– Pull in, lift and Strip Vehicle.
– Book out parts and Fit.
– Road test, check over.
– Final Clean down and Handover.
Technical Assistance.
For fitting tips and advice please call our technical helpline on +44 1482 224433 to speak with one of our Qualified Technicians or email in on sales@dreamscience.co.uk
Read More