Dreamscience Mustang GT Lowering Springs (30mm)
Dreamscience Mustang GT Lowering Springs (30mm)
Give your Mustang an unmistakeable Dreamscience Stance.
Dreamscience has been working with KW suspensions to bring you our latest range of Lowering springs for the Mustang GT.
Made from chrome silicon steel in a cold winding process, Dreamscience lowering springs by KW sports springs are multi-coated with a final epoxy coating ensuring an OEM quality and finish. Thus, they withstand a variety of weather conditions all year round.
On the Mustang GT, our Lowering springs will allow a typical lowering of 30mm on both the front and rear Axle. Compared to standard suspension, our sports springs lower the center of gravity to provide much better driving dynamics and handling. Furthermore, compression and rebound are also reduced which allows the car to drive more agile with reduced body roll.
Not only does the Spring improve the handling they dramatically change the look and stance of the GT. Giving it a Real American Muscle look.
The Dreamscience Spring will not affect the everyday usability of the Car.  Despite having a revised spring rate to improve handling by stiffening it under pressure. the first 5mm of travel of the spring is the same of that in the Standard car making the ride when cruising unaffected.
Standard.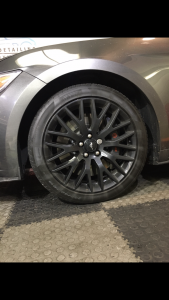 Dreamscience Mustang GT Lowering Springs (30mm)
Fitting information. 
Fitting at Dreamscience HQ is available and we will carry out a Full 4 wheel Alignment once fitted (if added to purchase) This ensures that your new suspension has full effect and maintains optimum performance.
If you are planning on fitting at home or elsewhere and you're struggling. We have a technical helpline ready to answer your questions. this line is on 01482 224433 and our experienced technicians are ready to answer your questions and offer guidance.
Read More