Dreamscience Focus ST MK4 Oil Cooler Kit
Technical Specification:.
Dreamscience proudly presents its latest breakthrough: the meticulously engineered oil cooler kit designed to elevate the performance of the Focus ST MK4. This launch represents another stride in our ongoing commitment to enhancing product development for both on-road and track applications.
Developed in-house, this comprehensive package delivers a cooling solution that effectively dissipates engine oil heat, maintaining optimal oil temperatures under all conditions to ensure unwavering engine reliability and performance.
What's Included:
High-performance oil cooler element encased in a precision-designed CNC Billet bracket
3D printed oil cooler element grit guard.
Thermostatic controlled Mocal sandwich plate (80 opening temp)
OEM oil filter
High-quality steel braided hoses with Anodized black swivel fittings, finished in AN10.
3D printed air-cooling scoop attachment with bracket
All necessary fixtures, fittings, and clear instructions for a seamless installation process
Our design seamlessly integrates with your vehicle's existing features, and should you ever need to revert, it can be effortlessly undone.
Key Features:
Premium Anodized Aluminium Construction: Crafted from anodized aluminium, the oil cooler element and its casing capitalize on lightweight and high-heat transfer properties, withstanding temperatures up to 150 degrees Celsius. This anodized material guarantees exceptional corrosion resistance and long-term durability.
Enhanced Protection with 3D Printed Grit Guard: The oil cooler casing features a 3D printed grit guard, providing an additional layer of protection against debris. This extends the cooling system's lifespan and reduces the risk of damage.
Optimal Heat Dissipation: The oil cooler flat-plate fin design maximizes heat dissipation efficiency, creating superior cooling performance for the engine oil and maintaining ideal operating temperatures.
Intelligent Temperature Regulation: The oil cooler's Mocal sandwich plate incorporates a thermostat that activates at 80 degrees Celsius. This smart feature enables efficient temperature control and precise oil flow for peak engine performance.
Aerodynamic Cooling Solution: The integrated 3D printed PLA undertray scoop attachment enhances cooling with a load strength of 60N/mm2, bolstering efficiency during high-performance and high-speed driving conditions.
Durable Steel Braided Hoses: High-quality steel braided hoses ensure exceptional strength and flexibility, ensuring consistent oil flow and resilience under all conditions.
Lightweight and Compact Design: Designed with minimal weight and size in mind, the oil cooler kit's compact form has a negligible impact on overall vehicle weight, making it ideal for high-performance motorsport applications.
Unleash the Full Potential of Your Focus ST:
Elevate your driving experience with Dreamscience's cutting-edge oil cooler kit. Engineered for excellence, our kit empowers your Focus ST MK4 with unparalleled heat dissipation, ensuring optimal engine performance whether you're on the road or the track.
Dimensions: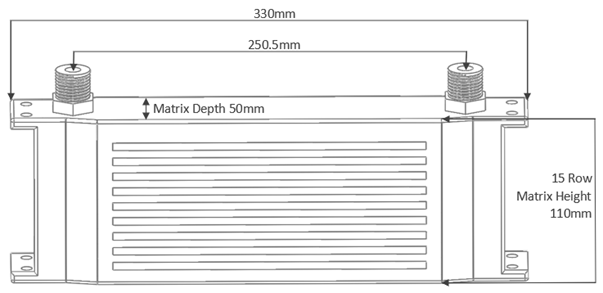 Read More