DOWNPIPE / DE CAT. [MK4 FOCUS ST]
The Dreamscience 3″ Downpipe / De Cat is made from mandrel bent 304 grade aircraft spec stainless steel. All systems have been designed and manufactured by engineers in the U.K. We have equipped each system with a threaded boss for the standard oxygen sensor.
When developing this component, we made sure we achieved several key factors. Optimum Performance; Sharped Sound; A High Quality Finish. We found this particular replacement makes one of the biggest differences in performance when changed, as this the most restrictive part in the standard exhaust system. Therefore, this upgrade allows the turbo to spool greater and faster, thus increasing acceleration and power. This will also improve your ST's throttle response and the overall torque output.
The 3″ Downpipe / De Cat shows significant improvement is flow and performance over its sports cat equivalent. It is important to note that this De-Cat system is Not Road Legal and will not pass a U.K. MOT emissions test.
Take a look at the Full Dreamscience Exhaust system here. Dreamscience Mk4 Focus ST Exhaust. – YouTube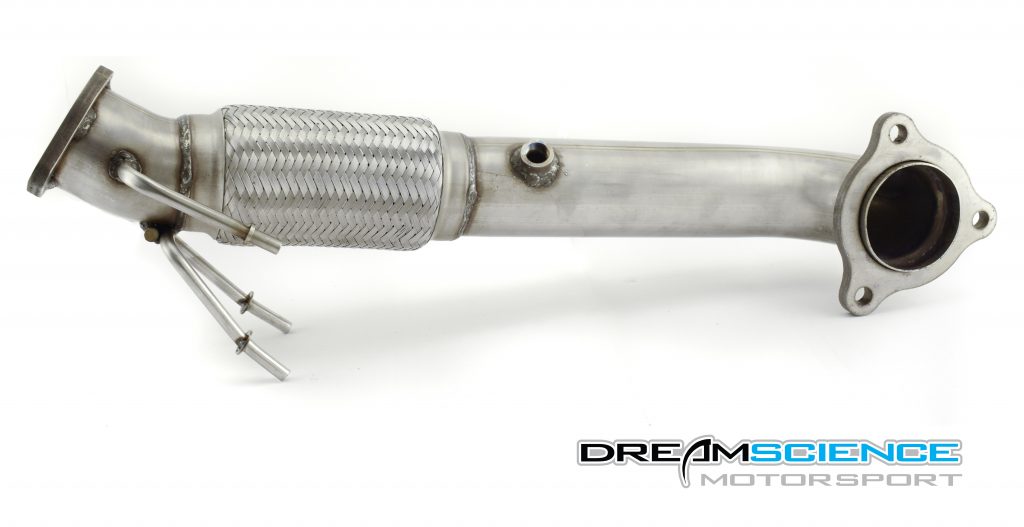 ---
Shipping info: 
This product is available for shipping inside the UK, Europe and the rest of the world. Shipping times may vary. Extra charges may be incurred if your locations is considered Remote. If this is the case a member of our team will be in touch shortly after you have completed your order.
Fitting info: 
Our Experienced Techs will take good care of your ST whilst it is with us. We Follow a strict procedure for each job to ensure a high level of quality is delivered.
This Procedure is below:
– Protect Vehicle Steering wheel with Cover.
– Protect Seats with Cover.
– Pre-work test Drive to fault find before we carry out work.
– Pull in, lift and Strip Vehicle.
– Book out parts and Fit.
– Road test, check over.
– Final Clean down and Handover.
Technical Assistance. 
For fitting tips and advice please call our technical helpline on +44 1482 224433 to speak with one of our Qualified Technicians or email in on info@dreamscience.co.uk
Read More