RS MK3 Tunes now available on the iMap!
We are giving everyone an update that we signed off the RS MK3 on our iMap handset last week, this is being added to the updater tool this week, anyone with an iMap already can perform the update free online using the update tool found in the downloads section of our website. New handsets can be bought with the maps pre loaded from Thursday this week, and the beauty of the iMap is it stores your stock file so you can flash back to standard at any time and it is not detectable..
We have added 2 tune files (Our standard car ran 341Bhp and 335FtLb)
Race 99 – This is for Shell V power or Tesco Momentum or better and produces 355Bhhp and 395FtLb of torque
Race 99+ – This is for Shell V power or Tesco Momentum or better and produces 377Bhp and 420FtLb of torque.
When comparing some of the graphs available on the market I see the graphs power and torque lines have quite a bit of air between the stock and tune file figures at low rpm which isn't possible as there is no extra power to be made at 1500 rpm, you will see our raw graphs attached all start at the same point and then increase as they should.
We worked with a team of calibrators at SCT for two weeks to make these tunes and we know they will stir things up a bit, we may not have been first to market but we'd like to be best.
All the best
Team DS#
RS MK3 Maps available on the iMap!
Check out the graph below!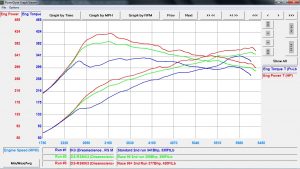 Back to News & Reviews