Dreamscience: The UK's Best Ford Tuning Specialist
At Dreamscience Automotive Ltd, we consider ourselves to be the UK's best Ford tuning specialist, having a wide range of experience with high-end vehicles and an incredibly skilled team qualified to enhance the performance of Fords.
For those that are new to the world of motorsport and car tuning, here's a bit of background to the purpose of car tuning and why we specialise in Ford tuning.
Interested in upgrading your Ford's performance? Discover what parts & accessories are available in our shop.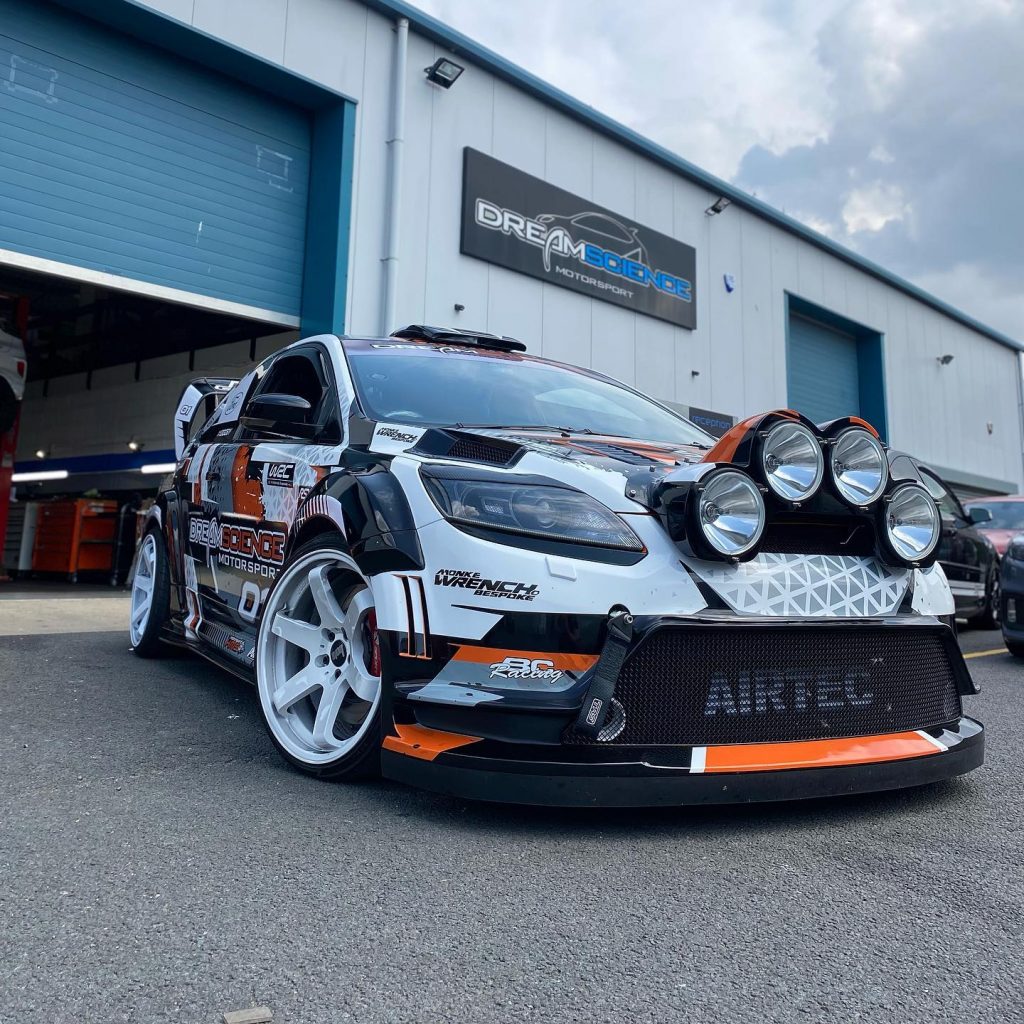 What's the purpose of car tuning?
As a brief introduction, tuning, otherwise known as re-mapping is the editing of the factory binary tables of specific parameters to maximise efficiency and performance for any set number of conditions, fuel grades and vehicle modifications.
By adjusting the relevant parameters to synergize the vehicle's software to the hardware, we can not only improve performance but maximise output. The vehicle (even in the standard calibration) works to various table limits. Our 'Remap' (through numerous changes) ultimately allows these table thresholds to be maximised and even increased where necessary, resulting in more tailored performance, thus increasing the overall power output and efficiency of the vehicle.
In order to maintain a true 'Specialist' status, Dreamscience cherrypicks working with only a handful of ST & RS models. Each vehicle we specialise in is purchased new and is put through our 6 to 12month development program. The development program includes tens of thousands of road miles, dyno testing and where relevant, track testing.
Access to the latest data logging technology, our in-house – 4-wheel drive dyno, plus our partnership with SCT, has ensured we have an unrivalled resource of combined tuning knowledge and experience. (SCT – one of the biggest Ford tuners in the United States).
All finished maps begin their life as a full custom tune and by the time the development program has finished, several tune files are generated for each vehicle. 
Each map will cover the eventuality of customers using differing hardware options and variations in fuel (i.e., 95,97,99ron fuel). These custom maps are analysed and filtered through a full team of tuners before they are configured into our 'iMap' tuning devices, making the tunes accessible worldwide!
How we became a Ford tuning specialist
Now for those familiar with Dreamscience, you'll know that we're a group of well-trained tuning specialists for Ford and BMW M-models; as well as suppliers of high-quality tuning packages, such as our Remaps and Engine Builders.
Although, you might not know that Dreamscience Motorsport was formed all the way back in 2005 and was one of the first companies in Europe to tune the Ford Focus ST225.
During the early stages of running the business, we started to build up a growing dealer network and where we eventually joined forces with SCT.
The owner of SCT, Mr Chris Johnson, flew over to the UK and worked with Dreamscience's team for a short duration. During this time, both the Dreamscience Team and Mr Johnson developed Dreamscience's first set of tune files.
These tuning files contain specifically calibrated information and data, perfectly refined to enhance engine performance via the engine control unit (ECU).
In addition to the first set of tuning files, Dreamscience and SCT built and populated our own custom tuning software platform, which was tailored for the UK & European markets.
We called this tuning software Advantage Ill. 
This platform became popular throughout the tuning industry which to date, is still used by various well-known tuning companies.
This is the era in which our custom tunes were first designed not only to work as in-house tuning but configured to work on the Stratagem tuning handsets, which soon after, flooded the Fast Ford market. From that point on, the UK's Ford tuning market was changed forever.
Since then, we have evolved to fill different needs within the market, moving into a larger premise and employing more staff to continue to grow the business. 
We've also established new areas of the business, introducing our in-house Mechanical Development department, Vehicle dynamometer diagnostics, and have added a vast range of automotive, own brand tuning products.
To date, we have successfully signed up over 100 master dealers worldwide, including household names such as Evans Halshaw Ford and Trust Ford UK.
Dreamscience dealers and customers now have access to Market-Leading Tuning options for the following vehicles,
Ford Fiesta ST150

Ford Fiesta ST180

Ford Fiesta ST MK8

Ford Fiesta ST225

Ford Focus ST250

Ford Focus ST MK4

Ford Focus RS MK1

Ford Focus RS MK3

Puma ST (1.5T)

Mustang GT S550

Mustang 2.3L EcoBoost S550
In fact, we are one of only two companies to have sold their own branded tuning upgrades, (including software) through these two Ford main dealerships. These products include individual tuning upgrades and tuning packages, for both new and used vehicles.
The opportunity to partner with such key players came from the recognition of many years working in line with our company mission statement; "Passion, Knowledge and Hard Work. All integral principles we follow to ensure Quality is delivered".
With over 20,000 stratagem tuning handsets now sold, you know Dreamscience is a brand you can confidently trust to tune your Fast Ford.
Take a look at Dreamsciences Hall of Fame and see some of our customers' cars and what we've done to modify their performance!
Back to News & Reviews