Interest free credit for Dreamscience products is available for purchases over £275 with Our interest-free finance package is a fantastic way to spread the cost over 12 months with just a 10% deposit on your purchase. To make it easy we've partnered with Duologi whose smart technology enables you to complete your purchase there and then.
First add the items you wish to purchase to your basket. When you reach checkout choose 'Duologi 0% Retail Finance'. The quick application form takes no more than a couple of minutes to complete and then you'll receive an instant decision.
Before you apply please note you will only be considered for finance if you:
Are at least 18 years old and maximum 75 years old at the end of the term.
Are in regular full or part-time employment (minimum 16 hours per week or £10,000 per annum, unless you are retired and receiving a private / company pension or in receipt of disability allowance).  You may not apply if you are unemployed/ a student/ Non-UK Resident.
Are a permanent UK resident and have lived in the UK for at least 3 years.
Have a UK bank account that accepts direct debits.
Have a credit or debit card registered to your home address.
Have a good credit history with no late payments, debt relief orders, CCJs, IVAs or bankruptcies.
You agree to have a credit check performed when you submit your application.
Do not apply if you have had or have any defaults or missed payments on existing credit agreements either currently or in the last 3 years.
Be able to accept delivery at the registered billing address. If you are unable to accept delivery to the address in your application, we are unable to offer you a Financing payment option.
Finance must be applied for in the name of the individual that is taking the goods or services.
All details entered during the application process must be personal to the applicant. E.g. personal email address and mobile number.
Double check the applicants details against their government issued ID i.e. Full name (No abbreviations), House/Flat number and postcode.
Interest free credit helps you spread the cost of your purchase over 12 months. The value of the loan needs to be over £275 and we require a deposit of 10% of the value of the goods.
0% finance over 12 months representative examples would be: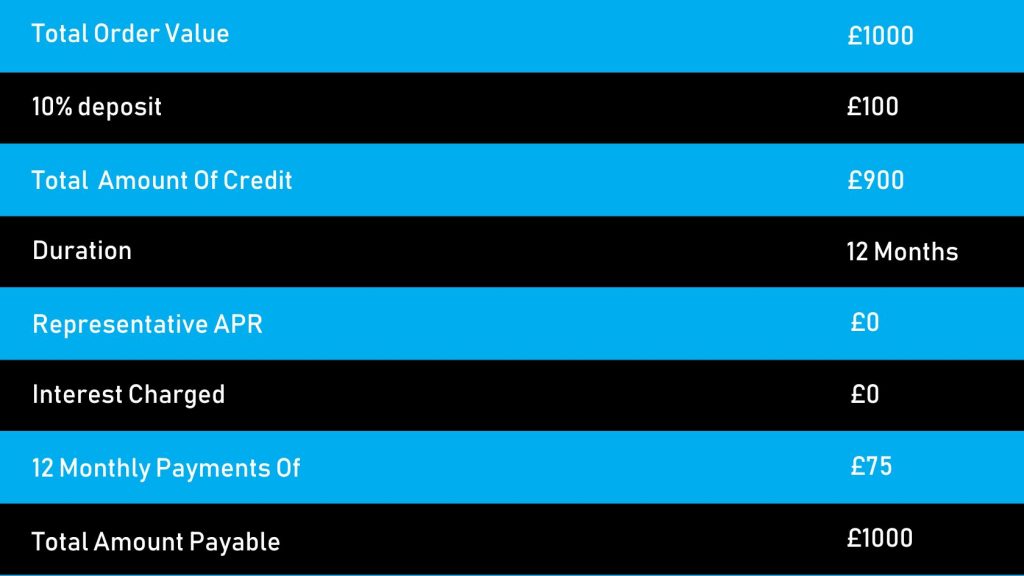 Finance decision
Your application will be assessed based on various factors including eligibility, credit history and affordability and Duologi will let you know the outcome of their decision in just a few seconds. It's important to know that when applying for finance a hard credit check is made and this is recorded on your credit file. Once approved, you just need to digitally sign your credit agreement, pay your deposit and then wait for your order to arrive. In a very rare cases, an application may be referred to a lender for manual underwriting. In such cases you'll be notified by email of the credit decision within 24 hours. If you're not approved for finance it could be for a variety of reasons. You should gain a copy of your credit file and this will be able to give you more information.
Repaying the loan
Your first direct debit payment will be taken about 30 days after you have received your purchase. This will show on your statement as a payment to Specialist Lending Ltd. You have the right to repay all or part of the loan early at any time.
Cancellation
There is a 14-day cooling off period where you can withdraw from the credit agreement after signing your documents. If you wish to do this, you need to notify Duologi. A finance agreement does lot affect our standard refund and returns policy. Just contact us and we can cancel your application and Duologi will refund your deposit. They will let you know of any outstanding balance if applicable.
Frequently asked questions
Will I be accepted for Finance?
Whether you're accepted for finance or not depends on many different factors. Duologi has a dedicated credit team who use their bespoke credit engine to help them reach decisions.
What can I do if I have been declined? If your application was declined, Duologi will not give you the specific reason/s why. They advise that you obtain a copy of your credit report so you can see the potential reasons. If you feel that there has been a mistake, please feel free to contact Duologi via email at support@duologi.com or call us on 0345 5211 881 Option 2.
How can I amend my order? If you have been approved for finance, Duologi cannot amend the amount or term. You will need to contact Herschel Infrared Ltd to complete a new application for finance. Please note we cannot guarantee a new credit application will be approved. All credit applications will leave a credit "footprint" on your credit history.
Who should I contact if I have a question about my credit agreement? Please contact Duologi's customer service team on 0345 5211 666 or via email at customers@duologi.com
When can I expect my Items? Please contact Dreamscience Automotive Ltd for delivery times.
How do I change my direct debit details? Changing your payment date can only be done after the first payment has been taken. Please contact Duologi's customer service team on 0345 5211 666 or via email at customers@duologi.com.
How do I change my personal details? Please contact Duologi's after-sales support team on 0345 5211 666 or via email at customers@duologi.com
What is a credit search? A credit search occurs when a third party investigates your credit report. They're looking to see how you manage your credit now, and how you've managed it in the past. This search may then be recorded on your credit report for other third parties to see. This is useful to lenders because if you've made multiple applications for credit recently, it could suggest to them that you have an urgent need for credit which you may struggle to pay back.
I need help paying my deposit online Please contact Duologi's merchant support team 0345 5211 881 Option 2 or via email at support@duologi.com
When will I receive a copy of my loan agreement? Duologi's Welcome pack is emailed to the email address you entered in your application. Your welcome pack, which contains your loan agreement along with all the regulatory paperwork is sent within 7-10 days of the goods or services being delivered by your retailer. If you require a copy of your documents sooner you can contact Duologi's support team on 0345 5211 881 Option 2 or email support@duologi.com who will be more than happy to help.
How do I return my goods and cancel my finance agreement? To enable Duologi to cancel your agreement, we will need you to contact Dreamscience Motorsport and arrange to return your purchase or cancel the services they're providing. Once they have confirmed cancellation, they will advise Duologi to close your agreement and refund any payments that have been made. You will need to contact Dreamscience to obtain a refund for any deposit paid.