Dreamscience Annual News Letter 2016
Dreamscience Motorsport Annual Newsletter 2016.
Firstly, on to the new "Big" Dreamscience business collaborations. The Fellas at DS HQ have been working tirelessly to develop a new product range on the Mustang GT and the Mk3 RS and it is with the most gleeful smile and pride we can now finally announce, Dreamscience product ranges will now be available from your local Evans Halshaw Dealership! You are now able to spec Dreamscience products to be added to your brand-new car or add them to your recently purchased mustang V8 or Ecoboost and Focus RS MK3 through their aftersales and performance dept. This is probably the biggest news that we have ever had the pleasure of announcing to our 11 year long history.  The Good news doesn't stop here…No-No! We also have the pleasure of announcing new working partnerships with the following companies.
Evans Halshaw. Dreamscience performance packs for the Mustang V8 and Focus RS MK3 are now available from your local Evans Halshaw dealership. The packs cover Power, Cooling and Handling. Dreamscience will be offering a warranty on all parts fitted inside the Evans Halshaw dealerships! To reinforce his new relationship we offer our aftermarket parts exclusively through the Evans Halhaw dealer network. For more information, contact your nearest Evans Halshaw dealership, or Dreamscience for an info pack and catalogue.
AFE power. Dreamscience recently became the UK a European distributor for the USA-based tuning company AFE Power. AFE develop and manufacture all their own product in house and specialise in intake systems. AFE will be the main supplier for our new Coilover kits and Intake Range for the Mustang and Certain BMW Models.
Hellion Turbos. During a recent Visit to the USA, the dreamscience team met up with John Urist, the owner of Hellion Turbos. John is very well known in the tuning industry and even more sure in the Drag racing scene. Dreamscience and Hellion turbo's will be developing a Twin turbo kit for the Right-hand drive Mustang S550 V8. The Bolt on kit will make a healthy 700whp. Keep your eyes peeled for the release!
Boostane. Octane booster engineering. (Winner of the "new product of the year" at SEMA) These guys make a fuel additive that really works. So much so we have customers buying it by the Barrel-load, check it our on our webstore.
Velossa Tech. Dreamscience have been co-developing the Big mouth intake system for the Fiesta ST180, Focus RS MK3, Mustang V8/Ecoboost and they're now available on thhe Dreamscience Webstore.
Kooks Headers USA. Dreamscience are now the Wholesale distributor for Kooks Mustang V8 headers.  This product will be ready by the end of the year on the Dreamscience Webstore.
SCT. The iMap journey still is unfolding and producing new models to which remaps are being added at a rapid rate. The iMap is still a seen as a new. The handset was only released into the market last year has defied all odds and began to take over the Tuning industry already. Working alongside SCT, we have truly manged to flood market with this amazing bit of kit. branching out to new dealers and customers worldwide.
KW and ST Suspension. Dreamscience have teamed up with KW/ST suspensions to bring you a range of Lowering springs and Wheel Spacers foor your RS MK3 and Mustang V8 and ECOboost.
Diony creative. During our preparation for our First Ford Dealership launch, Dreamscience had to undergo a little branding revamp, producing new catalogues, leaflets, website images and a new high-budget promotional video. To implement these changes, we teamed up with a local company called Diony Creative. The guys from Diony live up their name and are unbelievably creative. Their work comes second to none and we are looking forward to working with them on future projects.
We look forward to developing each new partnership formed during the last 12 months to form a circle of successful businesses that form a strong network.
New Dreamscience Dealers signed up in 2016: 
Bill Shephard mustang. (UK)
GC performance (Mexico)
KMS Motorsport (UK)
Matt Lewis Motorsport (UK)
MBE Autocare (UK)
ND Tuning (UK)
Blue Blood Performance (Australia)
KW Dealer. (Australia)
We will be adding a full dealer network map for you to access on our website by the end of the Year! Keep your eyes peeled!
New Dreamscience Products released 2016:
Imap for Mustang V8, Mustang ECOboost, Mk3 RS, Face lift Focus ST250.
DS ST250 intake system.
DS Mustang suspension
DS Wheel spacers.
RS MK3 Lowering Springs,
RS MK3 Wheel Spacers
BMW Lowering springs
BMW Wheel spacers
RS MK3 upgraded intercooler.
ST180 intercooler.
Velossa tech Big mouth intake systems.
Boostane Octane booster.
Inside DS HQ:
New Staff. Not only have we expanded our product range during the last year, we have also added new members of staff to the DS team. Richard, is the newest member to join our team inside the workshop. With 11 years of experience working at our local Ford dealership, Richard is a very capable technician. Richard is now our Workshop manager. He will be your point of contact for any fitting advice. He will also ensure the quality of the work leaving the workshop is 100% perfect.
He has settled in well, bonded with the rest of the DS team and looks to have a promising future with Dreamscience.
New Rolling Road. Members of staff aren't the only new features to the DS workshop. This summer we replaced our Mustang Gladiator Rolling road with a new Mustang dyno MD150 AWD SE. we have even gone to the effort to sink the RR into the ground.  This has been a key moment in 2016 and has given us many advantages already! Not only has this Dyno seen its fair share of 800bhp cars and Dyno days, it's also helped us create the famous Race99+ Map which is proving extremely popular with the RSMK3 customers. – Engine Build and clean room. Now that we are offering over 3 different choices of engine rebuilds on the Focus ST225 and the Focus RS Mk2 we decided to build a dedicated area for building said engines. We have been looking onto Forging the RSMK3, Fiesta ST180 and the Mustang V8 The Standard Rebuild; The Performance Rebuild; The Race Engine. We have engineered our full upstairs as a fully equipped engine building floor. With so many customers looking for big power and solution for their cracked liners, we decided to improvise and dedicate a whole floor to make sure all engine jobs are carried out perfectly.
Full interior renovation. Here at Dreamscience We pride ourselves on our appearance. We make a constant effort to keep our premises look as tidy as we can.  So, In the summer, we set about DS office space, decorating throughout. We did this to keep them looking just as sharp as the famous Dreamscience Workshop. We ripped out all the old carpets, the furniture and replaced with new wood flooring throughout, hit the walls with a fresh coat of paint plus a few customer favorites were brought into the DS waiting area such as the full Netflix account, wider TV, Xbox Live and Sofa set up. A proper little Man-cave and lastly and we feel most important…. We have a new Coffee Machine! It's a beast.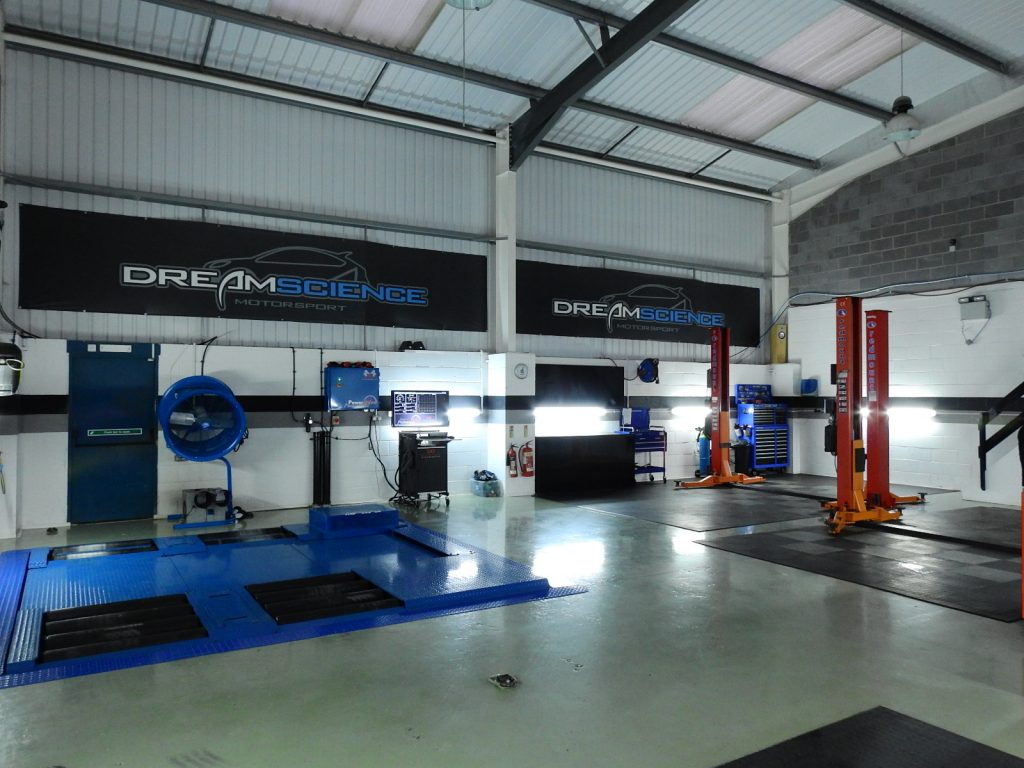 Back to News & Reviews